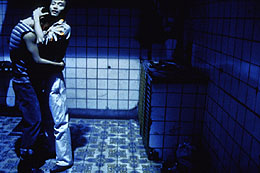 Even Sight and Sound are guilty of misreading WKW, Larry Gross declaring him as "post-MTV ... the last heterosexual (??!!) filmmaker." In fact WKW, like his colleague Stanley Kwan, is one of the very few Asian stars to tackle gay stories, and the intensely visual nature of his work is obviously influenced by his student days channel-surfing American and Japanese TV. Chungking Express was inspired by the stories of Japanese novelist Haruki Murakami, Ashes of Time by John Ford's The Searchers, Days of Living Wild by Martin Scorsese's Mean Streets. Whilst trained as a graphic designer in Hong Kong Polytechnic, WKW's films are pure MTV - post-modern works full of cynicism and optimism, entertainment and social critique. WKW soundtracks are derived from American jukeboxes, Latin, jazz and 60's pop infiltrating every second scene, along with Cantonese poptunes and cover versions of western songs. "Chungking Express has Tony Leung fooling around with air hostess Valerie Chow to Dinah Washington's "What a Difference a Day Makes", tenderly landing toy planes on her sweat-coated back - a scene inspired by Wong's childhood memory of a Pan Am commercial."

Hong Kong is a product of relentless migration, globalisation and social change. The forces that shaped HongKong's personality were huge, within a space that was too small and self-contained. Fierce population growth and movement dissolved any demarcation between commerce and culture. The impatient desires on which the colony was founded have created a society where movement and adaptation is all important, where fast-living and relational-identities reflect the rapid fluctuations of market forces. The vast majority of the population derives income from some form of stock, currency or property speculation. Appearance and attitude, obsession and commitment, keeping up with the times: these are issues of Hongkie identity. Consequently, living there cultivates a loud, fluid existentialism at odds with the expectations of western critics.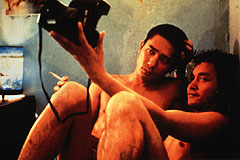 HK identity and relationships are a currency and commodity in themselves, of changing value and nature, to be exhibited and traded. This insecurity and restlessness is manifested in WKW's characters, who are always anxious about being in the right place at the right time, always dreaming of other countries, speculating about other people, forever conscious of time and its opportunity cost. They chart their existence against the disappointment and regrets of failed relationships and the hopeful chase for new ones - the accidental meetings that, strangely enough, provide them with a sense of security, fate and happiness.
Longing and obsession, not love, is what fuels WKW's narratives. The tactile neo-noir environment created by Doyle's camerawork and lighting, and Chang's use of colour, decor and space, makes "everything in the world of these films - decor, light, the air itself, seems to be an object of displaced erotic feelings." The use of bars, barbershops, fast food joints and trains emphasise the flux of the city within which the body must keep moving to remain buoyant - to resist the vacuum in which self is dissolved in the movement of the masses. The anxiety of individuality is imbued in the physicality of Tony Leung, Leon Lai - a repressed energy that is sporadically unleashed in excess of narrative.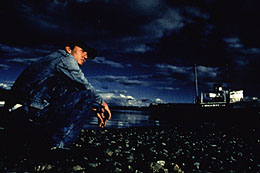 WKW's restless characters resonate with an urgency that is never fulfilled, as they quest for a lifestyle more certain and rewarding, but that generally proves more elusive, and in the end, closer to home than they imagined. The song California Dreaming accompanies Faye Wong's movement throughout the Chungking Express, first taking her to the California cafe, then to the real California, but eventually back to HK. In Happy Together the lovers run away to Argentina in search of a happiness that proves more temporal than spatial, a resonance carried through from Ashes of Time, where the four swordsmen of Chinese mythology leave love and family to pursue fame and fortune. All these characters end up far from home, wistful and unsure of return. This genre is particularly poignant to HongKong and the Cantonese diaspora. "Victims and warriors of the 'late colonial condition' (to borrow film scholar Esther Yau's phrase), they are Westernized but not Westerners, still Chinese but not quite, lured with the temptation of becoming 'citizens of the world' or permanent exiles."
Below: Faye Wong playing with toy aeroplane in Chungking Express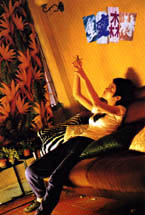 Playfulness is particularly strong in HongKong culture, and WKW characters correspondingly thrive on spontaneity and impulse. They harass and play practical jokes on each other incessantly, they talk to inanimate household objects. In Chungking Express Tony Leung converses with his soft-toys, a bar of soap, a ratty tea-towel - provoking even admiring western critics to describe WKW's oeuvre as 'goofy' with an 'overdeveloped sense of fun'. This irreverence, which is so very Hongkie, irritates and confuses the 'serious' western film-reviewer, not used to flippancy in what they so desperately want to recognise as Asian art-film, the next wave. But I would suggest this lack of sacredness is a strength, a warmth and affection for the frivolous moment, a return to an innocent cinema. WKW and others like him are recovering a sense of openness and epiphany that serves as a counterpoint to the brooding voyeuristic fragments of bruised individuals that already populate post-modernity.
David Chute provides some explanation: "Hong Kong, however vivid its personality, was an accident of history, for all its economic might a makeshift political and social entity whose distinct outlines are already dissolving. It was Hong Kong's unique situation to be a point of convergence for many forces, where the decline of Western imperialism and the rise of the "forgotten" nations of Asia as major economic powers found expression in a local culture with unique double-edged characteristics." Which explains why WKW films also refuse definition. They resist narrative vocation yet employ populist modes of address, they lapse from contemplative arthouse moments into uncontextualised bursts of violence and gleeful perversity that undermines the sacredness of cinema-as-art. Takeshi Kaneshiro massages a pig carcass in Fallen Angels, the hitman pulls off a messy killing then bumps into an old friend on the bus who invites him to his wedding. "Even a hitman has friends from junior high." is his adroit comment.
Filmcritic Stephen Teo, writing about John Woo notes: "In both a positive and a negative way, Woo does not flinch from showing what is elemental or crude in his own society, for Hong Kong, like most developing Asian societies, is a place of extremes ... Without the softening effects of middle-class placidity, venality and vanity are the norm. Woo's florid style or his tendency for excess cannot therefore be dismissed as mere indulgence ... He is not the only director to reflect the basic nature of Hong Kong society in the movies." Certainly, this analysis is equally appropriate to WKW et al. HK culture thrives on the desire for wealth and spectacle. Naturally these desires are worn on the sleeve - an unapologetic "venality and vanity" which can be as naive and attractive as it is shallow, sweet. WKW exults in it: invoking the density and diversity of Hong Kong in "the sheer hedonistic absorption in architectural surfaces, in light sources, in decor of every possible fabric and material, and the absense of overt literary seriousness in the plots." The cuteness and mugging of his stars is not cheap affectation but the accurate representation of the freeplay and barter of identities so essential to the Hong Kong character. This freedom and lack of prejudice infuses WKW's manic characters and camerawork with a physicality and decadence that has led several to label it the work of super-talented hacks, of irresponsible filmmakers. But I maintain that this insincerity is inherently sincere, in fact more so than the politically correct porridge of the social-realists. Appropriation and assemblage of attitudes, styles, identities is in the spirit of cinema as well as Hong Kong. Cinema needs this injection of impulse and play. Its confident application is a thrill, the overlaying of soundtracks, stories, camera filters, grains and editing techniques acquiring a density of address which requires repeated viewings to fully appreciate its orchestration and intentions.
Let me end with this beautiful quote from Howard Hampton: "What's rewarding in Wong's oeuvre, what's alive in it, is lack of artistic purity. It's no accident that Ashes of Time, an austere, dreamily ironic swordplay epic, is at once so anomalous and so utterly characteristic of Hong Kong film at its most satisfying: where else would someone combine Akira Kurosawa and Alain Resnais to make the equivalent of The Seven Samurai at Marienbad (and have this constitute a genre, albeit a genre of one)?"
eugene chew
comments? email the author
Reading List
Chute, D., Hong Kong Cinema: The Extra Dimensions. from Film Comment, May-June 1998, v34 n3
Doyle, C., To the End of the World, from Sight and Sound, May 1997, v7 n5
Gross, L., Nonchalant Grace. from Sight and Sound, Sept 1996, v6 n9
Hampton, H., Blur as genre. (Wong Kar-Wai's 'Chungking Express') from Artforum, March 1996 v34 n7
Rayns, T., Poet of Time. from Sight and Sound, Sept 1995, v5 n9
Reynaud, B., High noon in Hong Kong. from Film Comment, July-August 1997, v33 n4